What types of ceramic kilns are there?
There are many different types of ceramic kilns. The preferred ones for heating are gas and electric.
There are also a large number of types, which at least almost all have their raison d'être and advantages and disadvantages. In the world of ceramics, the following types are particularly popular:
Test or laboratory kiln
Annular kiln
Tunnel kiln
Muffle furnace
Chamber furnace
Kassel kiln
If you want to learn more about the different types of ceramic kilns, we refer you to our separate blog.
What should you consider when choosing your ceramic kiln?
Before we introduce you to the best ovens available on the market, there are a few things to keep in mind when choosing an oven, whether you buy it from an online store or in a physical store.
Think about how big your future pieces are likely to be. A kiln that is too small cannot accommodate larger pieces, and a kiln that is too large takes up a lot of space, is more expensive, and uses more energy.
Don't just look at the price. Buying three times is more expensive than buying once.
Inquire about the necessary installations and maintenance costs. Not every oven can be plugged into a regular outlet. You may need separate electrical installations or additional fire protection for gas operation.
Think about where you want to place the stove and take measurements. If the oven you bought is too big and doesn't fit, things will get uncomfortable. Also make sure that the stove fits through the door, window, or through the corridor and stairwell to the 10th floor. (Small joke)
The 7 best ceramic ovens on the market
RC-16L Technical Supermarket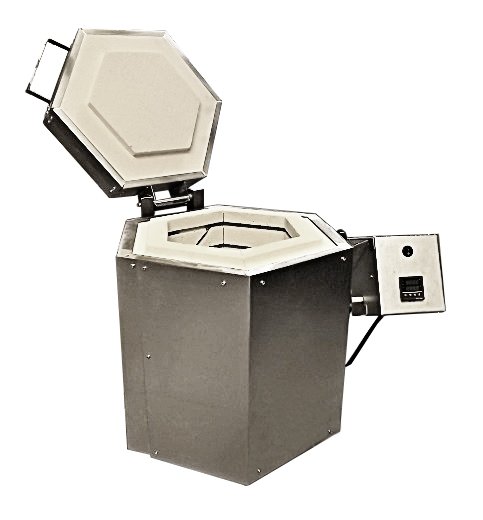 Price: $720
Reaches 1240°C
Has a capacity of 16 liters
Weighs 37 kg
Dimensions 50 cm x 50 cm and from the front with the electrical box 65 cm
Cable length 2.5m
Rated power of 3500 watts
One year guarantee
Includes one-year reprogramming service and free technical service via Skype
It is a very good electric oven with temperature control. Its size makes it ideal for use in a home studio or small ceramics workshop.
Thanks to the digital display, the device is very easy and intuitive to use. The maximum temperature is reached after 120 minutes.
Nabertherm N-40E 1300°C 40 liters 2.9Kw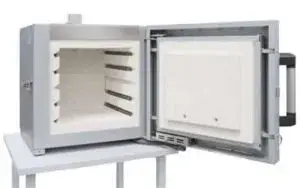 Price: $41,000
Reaches 1300°C
40-liters capacity
Weight 90kg
Internal dimensions 35cm wide x 33cm deep x 35cm high
External dimensions 64cm x 80cm x 60cm
Has a power of 2.9 Kw
If you are looking for a small kiln, this is a great option.
The heating elements inside the oven are protected to prevent accidents. The air inlet opening in the door can be adjusted in stages, and the air outlet opening in the roof ensures perfect ventilation of the stove.
This kiln is expensive. In addition to its compact size and high temperature, it is not only suitable for the production of ceramics, but also for glass painting, for example.
Prometheus Kiln Pro-7-PRG-BD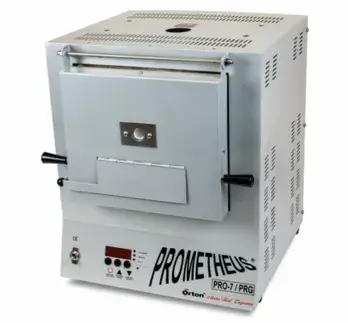 Price: $1,000
Reaches 1100°C
7.3 liters capacity
Weight 22kg
Internal dimensions 23cm wide x 15.5cm deep x 25cm high
External dimensions 36cm x 37cm x 43.5cm
Has a power rating of 2000 watts
Voltage of 220V
This is also a compact oven that doesn't take up much space. It reaches high temperatures and the best part is that the internal resistances of the kiln so you can be sure that all the pieces are fired evenly.
This ceramic oven is among the lowest on the list, but thanks to the 9 programs it comes with, the user has the option to set up to 8 temperature levels in each program.
This oven works with normal sockets.
Tabletop Furnace ceramic oven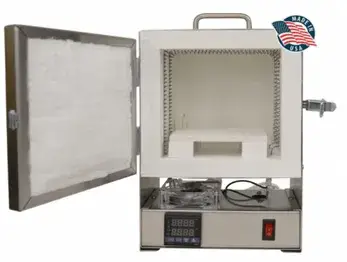 Price: $525
Reaches 1200°C
Weight 5.4kg
Interior dimensions 15cm wide x 12.7cm deep x 15cm high
External dimensions 20cm x 17cm x 33cm
Rated power of 1500 watts
Includes 90-day warranty against factory defects
This is a perfect ceramic stove for beginners. The device is affordable and easy to use. The maximum temperature is also reached after 10 minutes.
Prometheus Mini Kiln Pro-1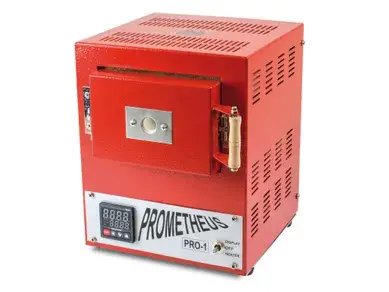 Price: $500
Reaches 1000°C
Weight 5.7kg
Internal dimensions 11.5cm wide x 13cm deep x 7cm high
External dimensions 22.5cm x 28cm x 29.5cm
Rated power of 700 watts
Voltage of 220V
With a 2-year guarantee against factory defects
Equipped with a m screen, a m monitor and a r digital temperature control
This device offers an ideal price-performance ratio.
This Prometheus kiln has four heating elements on top, bottom and both sides, which ensure better heat distribution in the kiln so that the pieces are fired evenly.
It also has four digital controls that allow you to adjust the oven temperature as needed. However, you must keep track of the dwell time of the clay in the kiln as you will have to turn the kiln off manually.
The ceramic furnace reaches 800°C in about 40 minutes. The stove is also very well insulated, which minimizes heat loss.
There is also a peephole in the oven door through which you can view your work.
Ceramic kiln series SXII 220V 4KW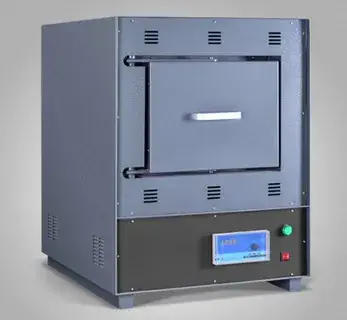 Price: $1,200
Reaches 1000°C
Weight 177kg
Internal dimensions 20cm wide x 30cm deep x 12cm high
External dimensions 82cm x 68cm x 93cm
Rated power of 4 KW
Voltage of 220V
Includes a 6-month warranty if the damage is caused by the workmanship.
This oven is intended for industrial use or, as in this case, for ceramic workshops.
The oven is very well insulated and the outside doesn't get too hot. In addition, the digital display is very useful and easy to use.
Paragon SC2-BD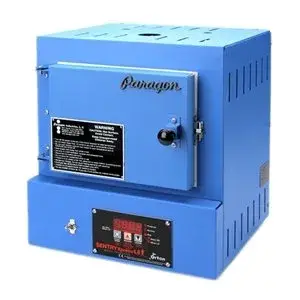 Price: $1,000
Reaches 1093°C
5.95 liters capacity
Weight 16.33kg
Interior dimensions 8″ wide x 7.75″ deep x 5.75″ high
External dimensions 33.7cm x 35.6cm x 39.4cm
Rated power of 1440 watts
voltage of 120 V
Includes a one-year warranty if it's a manufacturing defect
Thanks to its size and weight, this oven is very easy to transport. Due to a layer of air between the inner and outer shells, the oven stays cool on the outside no matter how hot the inside gets when baking.
The ceramic oven has slots so that the air circulation in the interior is very well controlled and the electrical elements such as the digital display are always kept cool.
This device will turn itself off once the process is complete.