Cacha handmade pottery
This account has existed since 2018.
Plant pots
CACHA offers its followers, buyers, and visitors pots with a maximum size of 20x20cm, ideal for small plants that can be kept in a small space, such as succulents.
Pots come in pastel tones like lavender, yellow, pink, purple, and green.
Mugs
Just like the pots, the mugs that you can get from CACHA are also decorated in shades of yellow, lavender, and pink. The model we are going to show you next is called Lina Mugs:
Among the Lina mugs, there is one in the identical colors with an addition that gives this object a particularly beautiful touch. This addition is a small bird located in the cup's ear.
The next option of the Lina mugs offered by CACHA is pink on the inside and white on the outside with a small golden heart on the front, undoubtedly the perfect mug to gift to someone you love.
Among the Lina mugs are mugs with abstract motifs, in particular one where the color green dominates both inside and outside.
And to conclude the options of Lina Becher, we want to highlight a beautiful design of flowers or plants that you can choose. Also, the inside of the mug is pink. This gives it a delicate and pretty touch.
But don't think that this is the end of the mug options because now we are going to show you one of the cutest mug designs you have ever seen. These mugs are green, yellow or pink on the inside and all white on the outside with Nordic animal motifs.
Among the mugs, we would also like to highlight the Jarrito Luisa mug, because its design is very elaborate since although it is completely monochromatic on the outside, it has 3D plant shapes.
The next mug design that CHACA offers is called Rita and it's slightly smaller and wider than the other mugs we've already seen. Inside it is painted green and outside are words like harmony, joy, and gratitude.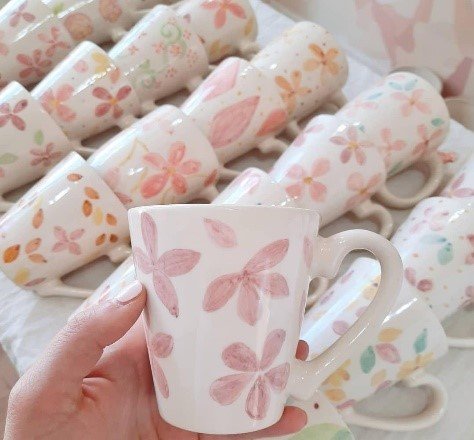 Mate tea
The mates are a type of cup specially designed for drinking yerba mate leaves. The countries where it is consumed are Uruguay, Argentina, Paraguay, Brazil, Bolivia, and Chile.
For this product, CACHA has similar designs as for the mugs, from flowers and words to hearts, dots, stars, and Nordic animals.
You should also know that all Mates come in different colors of yellow, pink, green, and lavender on the inside.
CACHA has created a new design for this product, the decoration of which is very similar to the Lina cups. The pumpkins are colored pink and green. Here we show them to you:
Candle bowl
At CACHA you can buy candles and ceramic or glass bowls.
The design of the ceramic candle bowls is simple yet beautiful. Her design is all white on the outside and has positive words written on the outside with calligraphy that pretends to imitate the smoke coming out of the fire. Great!
These bowls are special and ideal to place anywhere in the house and give a special touch to the place.
Multipurpose bowls
Just as there are bowls for candles, at CACHA you can also buy bowls that you can use for everything from decoration to food storage and even as gifts.
These bowls have a super successful design and are available in different colors so that there is something for every taste.
Plates
At CACHA you can also buy plates in all sizes, colors and designs. The first type of plate that we want to show you are the dessert plate. These plates are small and decorated with lines of different colors.
The second design of these objects is called Lia Plate and their main feature is that they are painted by hand and a lot of creativity! The large Lia plates are ideal for serving main courses at any time of the day.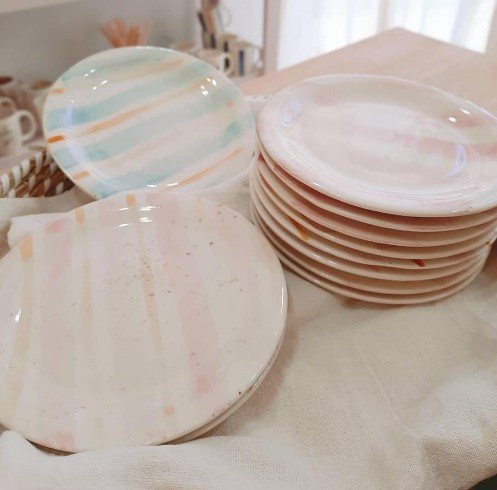 Other objects
Finally, we would like to point out that you could also purchase other objects from CACHA Cerámica. They are jars with pink, green and white lids and beautiful large salad bowls, hand-painted with drawings similar to the hand-painted cups.
Prices
Important to know that the prices of all CACHA Ceramics products vary depending on the size.
The products cost between 450 and 1500 Argentine pesos.
Address and social networks
CACHA ceramics showroom address: 28 e/64 y 65 in La Plata, Buenos Aires.
This is the physical existing store.
Instagram: @cachaceramica
Allpa Ñusta handmade pottery
This account has existed since 2018
Classic line
In this line, you will find mugs, plates, and tea sets with classic and simple designs in the colors black, red, yellow, purple, white, green, orange, and blue.
These objects are ideal for the home, especially in rustic houses with wooden tables a perfect combination.
Butterfly line
As the name suggests, this line is based on butterflies and the decoration is full of butterflies of every color you can imagine.
Circle line
The pieces you can buy in this line are mugs, mates and teapots, all decorated with nested circles of all sizes and colors.
Line for children
The children's series consists of mugs with motifs of rainbows, unicorns, hearts, wagons and dolls, similar to those from the famous Monsters Inc. film.
Llama line
This line consists of mugs and glasses with llama drawings. If you are a lover of these animals, you will surely want one of them.
Flower line
As the name suggests, all objects in this line are decorated with flowers of all sizes and colors.
Little Prince line
The objects of this line are decorated with the image of the main character of the most famous work of the French writer Antoine de Saint-Exupéry, namely the Little Prince.
Mafalda line
For this line, you will recognize cups, mugs, and glasses with the face of the famous character Mafalda and its most representative colors black, red and white on the surfaces of the pieces.
Frida line
This beautiful line is inspired by one of the most iconic personalities, the painter Frida Kahlo. Here you can take away nice cups, mates, glasses and cereal boxes.
Rainbow line
In this line, the pieces are decorated with rainbows in 3 colors with infinite combinations. The main product of this line is the mugs.
Hawaii line
The Hawaii line has vibrant colors reminiscent of paradise. Her motifs feature red flowers and the flamingo, representing this tropical wonder.
The items you can buy are cups, plates, teapots, and glasses.
Garland line
In this line, you will find cups, jugs, and teapots, all decorated with drawings simulating garlands of many colors.
Cactus line
The cactus line is decorated with small cacti – super cute! The objects that you can buy in this line are mugs, glasses, and teapots.
Hojita line (little leaf)
The Hojita line refers to nature by using small leaves in all imaginable colors as decoration.
The objects of this fantastic line are cups, plates, teapots, glasses, and vessels.
Other objects
Other objects that Cerámica Artesanal Allpa offers its customers and visitors are magnets in the shape of fish. These objects are very beautiful and come in different colors and designs.
Prices
These products are only available in Argentina.
Unfortunately, we do not have any information about the prices of the products.
Instagram: @ceramicaartesanalallpa
Casa Del Arte Ceramics
This account has been around since 2016.
The account features many ceramic figures and was set up to show the talent of the potters behind all the creations and to attract more visitors to the shop, which we will tell more about later.
Religious figures
The products that particularly stand out are the religious figures. If you are a believer, this place is perfect for you because here you can buy the most beautiful sculptures of this kind.
Animals
Animal figurines are also made in Cerámicas Casa Del Arte, ideal for decorating the main rooms of a home.
One finds motifs such as elephants, dogs, horses, herons, turtles, butterflies, bulls, owls, and deer. At first glance, they all look real, but you can also have them painted differently and creatively.
Animated characters
Another creation of Cerámica's Casa Del Arte is the imitations of famous cartoon characters from television. These include Batman, Iron Man, and Kulilin.
Piggy banks
Creatively painted piggy banks are also sold in this shop. And if you want the typical piggy bank at home, you can have it personalized however you like – perfect!
Own brand of paints and ceramic painting courses
Cerámicas Casa Del Arte is innovative because they have their own brand of paints for ceramics that they use to paint and decorate all the pieces they make.
One of the really cool things is that you can buy them to paint your own pieces, and you can also buy objects unfinished and give them a personal touch with the colors.
Painting courses are also offered on-site. The lesson times are as follows:
Monday to Friday: from 8:30 a.m. to 12:30 p.m.
Saturdays: 9:00 a.m. to 1:00 p.m. and 2:00 p.m. to 6:00 p.m.
Prices
You can buy these ceramic objects in the Cerámicas Casa Del Arte store or online.
The company is based in Colombia.
Prices for these products range from 20,000 to 200,000 Colombian pesos.
Address and social networks
Address: Calle 22 #7-51, Pereira, Risaralda in Colombia.
Instagram: @ceramicascasadelarte
Facebook: Ceramicas casa del arte
Amasa
This account has existed since 2016.
Mugs
Starting with mugs, Amasa offers many designs and product types for this category.
First of all, you can buy the Zen mug, which is characterized by being small but wide. His motifs are abstract and can be in dark tones such as blue and gray. Motivating sayings are engraved on the inside of the Zen mug, giving it a touch of originality.
We continue with the second type of cup that Amasa produces, the so-called Bou cup. Bou cups are similar in shape and size to Zen cups. However, these are all one color and come with small ceramic animal figurines, which are always meant to mean something positive to the buyer.
These mugs come in pink, blue, mint green, and lilac. I don't know about you, but I really want one.
The last two mug types are the Petit Mug without an ear and the Bowl coquet. What these two have in common is that they don't have an ear, meaning they can't hold them with their fingers.
Plates
Just as there are different types of cups, at Amasa you will see different types of plates of all sizes and colors.
The first type in this category is the Bou Dish, which, like the Bou Cups, comes in pink, blue, mint green, and purple, not forgetting a little animal on it.
The second type is the Litt Teller. These plates are regular-sized and come in orange, pink, green, and purple colors.
Unlike the Litt panel, the Coral panel simulates an irregular and less than perfect shape. This type of plate ranges from small to large in pastel colors like pink, green, blue, purple, and grey.
The Coral records are very idiosyncratic but interesting.
We continue with the lino plate. Its name derives from the fact that it is completely smooth, shiny and elongated. It is 30cm long and 15cm wide making it ideal for serving large main courses or serving food at all.
The final plate type is the rectangular plate, which simulates a cardboard box that pizza is eaten from and also comes in pastel shades.
Other articles
Amasa is the perfect place to buy tableware with unique and different styles and all products are in pastel tones.
Other items you can buy include teapots, jugs, pots, bowls, shots and glasses.
Prices
The price range for these products is between 17,000 and 200,000 Colombian pesos.
Orders and deliveries are mainly made in Colombia.
Address, social networks and website
Address of the workshop: Av. Carrera 30 # 71 – 71 Bogotá, Colombia
Email: amasaceramica@gmail.com
Instagram: @amasaceramica
Facebook: AMASA ceramica
Website: https://www.amasaceramica.com/
CAZA Ceramics
The CAZA Ceramics account has existed since 2017.
CAZA Cerámica has two categories of ceramic products, one is for the table and the other is for decoration.
For the table
This category is called that for the simplest of reasons, and surely everyone thinks they are household items used at the table.
Boat
You may be wondering what a boat is doing on a table? This object is very rarely seen but has many uses. Among the most common are the decoration and serving of snacks, which are placed in the center of the table so that everyone can eat them when they want.
CAZA boats come in a variety of colors and designs, from blue, red, green, gray, and burgundy to a mix of two of these colors with patches in different patterns – very original!
Bowl
The bowls resemble a round, tall and wide containers, ideal for serving all kinds of food.
The designs offered by CAZA Cerámica are the same as the boats, so everything fits together perfectly.
Keepcup
The Keepcup is one of my favorite ceramic pieces. These are imitations of the cups that big companies like Starbucks serve coffee in. Only they are reusable and durable.
The designs are diverse, they come in all sizes and colors. Here we show you one of them.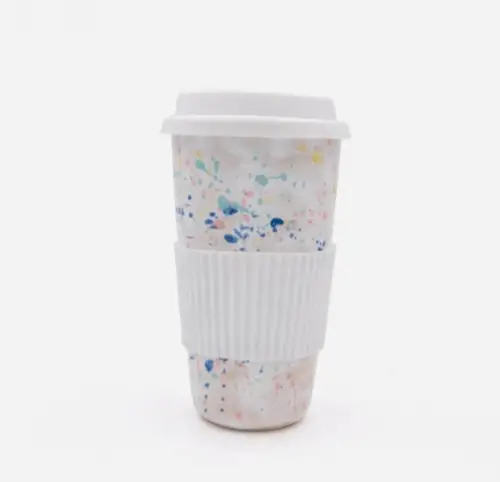 Cup holders
An object that some people forget, but which is undoubtedly one of the most important, giving a touch of elegance to your table and on which to rest the coffee or teaspoon.
The saucers are very pretty, they come in color, with dots, polka dots, and spirals. You can also get these in sets of up to 10 pieces.
Napkin rings
Napkin rings also play an important role on every cultivated table. On this account, you have the opportunity to see the most original napkin rings that you will definitely want to buy.
Salt shaker
CAZA ceramic saltshakers are unlike any other saltshaker you have ever seen, they are square.
Jug
The pitchers are oval and square.
They add a touch of sophistication to your table, not only for their shape but also for their designs in pastel colors or by simulating a material such as stones or water.
Mugs
CAZA Cerámica offers mugs of all types and sizes. The first type is the traditional mug, which looks like a regular mug, oblong and with a handle to hold it.
The second type is the big cup. This mug is slightly shorter but wide and has a handle. The third type you can see is the Oh mug.
Tortera (cake stands)
Cake stands are the items that birthday cakes are usually placed on.
You may have seen the aluminum products but the designs of these products make them much more eye-catching and ideal for any special occasion. You can see them in pastel tones, with dots, stripes, and polka dots.
Tableware
The tableware from CAZA Ceramica includes the entire tableware. In this account, you will find plates of all types, sizes, colors, and designs, from small round plates to rectangular and deep plates.
The motifs of the plates are very diverse and there are plates in all colors, with dots, lines, dots, and spirals.
Decoration
For the decoration of your home, CAZA Cerámica offers you two options: vases and pots.
Flower vase
The vase is a very special decorative item because it should match your plants. That is why you will find many different vases at CAZA Cerámica.
The first type is the hanging vase, characterized by being very thin and elongated. The second type is the crumpled roller vase, whose name comes from the fact that its shape simulates a crumpled roller, very original.
Interesting to know that this piece is made using the rolling technique. The technique of churros consists in making rolls of clay that are overlapped and joined together until they reach the desired height and shape.
The third type of vase is called Rollo flores secas, it is similar to the previous one, except that instead of being wrinkled, they are straight, each representing the color that a flower takes on as it dries.
Finally, the last type of vase is the solitaire vase, whose geometric shape resembles that of a trapezium, but is elongated.
All vases are monochromatic or have abstract motifs, which we have already mentioned for all other products.
Plant pots
At CAZA Cerámica you can see 3 types of pots ideal for your larger plants. The first is the matera bola (ball pot), which owes its name to its shape, being small and spherical.
The second type of pot is called cone pot, it is characterized by its cone shape, it is elongated and tall, very elegant!
The third and final type of pot is the hanging pot. It is ideal for hanging plants, its shape is oval and it comes in different sizes.
Prices
Prices range from $25,000 to $190,000 Colombian pesos.
Address, social networks, website and contact
Workshop Address: Carrera 11a # 107a-40, Bogotá.
Instagram: @caza.ceramica
Facebook: CAZA ceramica
Website: https://www.cazaceramica.com/
Contact: caza.ceramica@gmail.com
Artilugios De Ceramica
This account has existed since 2015.
Mugs
The mugs are among the star products. The mugs are characterized by their bright colors, drawings, and sayings that can be seen and read on them.
The decoration and finishing of all these mugs can be found not only on the outside but also on the inside.
These pieces are available in small, medium, and large sizes in the design you want.
Plant pots
Not only cups are decorated with bright colors and words or sayings. Pots for your plants also have many attractive and different designs to suit all tastes.
At Artilugios De Cerámica you can see 3 types of pots. The first is the cylinder pot, so called because it has a round shape. The second type is the square pot, also named for its shape.
The third type is the globe pot, which is characterized by its round but slightly curved shape. It is one of the most beautiful, eye-catching, and original designs.
Piggy banks
Like the pots and cups, they have a colorful design, but the most surprising thing is the shapes that come. Yes, you read that right, shapes.
The first form you see in this report is that of a chonchito, all very cute and with different facial expressions. The second form is that of little chickens, all of which look as if they are sitting and are decorated in different ways.
The third form is a michito if you are a cat lover you must buy this cute and beautiful piggy bank. You will not regret it.
Prices
Prices for all of these items range from 170.00 to 290.00 Mexican pesos.
Social networks and website
Instagram: @artilugios_mexico
Facebook: Artilugios
Website: https://www.artilugios.com.mx/