Translated by Nick R
You have probably heard about all the wonders of the Latin American country of Peru: gastronomy, music, culture, Machu Picchu, llamas… Yet, there is one more thing this country stands out for that you may not know: pottery, particularly in the production of Wari pottery.
As we know that you love pottery and, most probably, you would like to know more about Peruvian Wari pottery, today we will share everything about Wari pottery, including where you can find it.
So, with nothing more to say, let's get started.
What is Wari pottery? 
Wari pottery is a typical handicraft from Peru, specifically from the Huari or Wari culture. This culture originated in the central Andes from the seventh to the thirteenth century A.D. Their development was so great that they formed a city baptized by the same name and spread to different areas of the Peruvian departments: Lambayeque, Moquegua, and Cuzco.
The Wari culture was characterized by developing its own economic system, producing materials such as textiles, ceramics, gold and silver work, and feather art, which they used to commercialize and through which they made their history, beliefs, and traditions be known.
The pottery from this culture is characterized by being decorated with geometric figures of felines. Typically, there are pieces such as bowls, vases, two-body bottles, and pitchers or vessels with high and thin necks.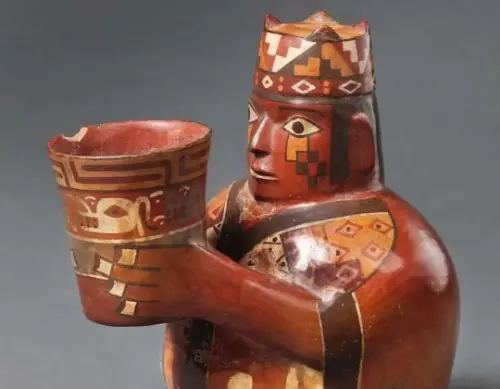 Characteristics of Wari pottery 
We dare say that Wari pottery is really unique. That is why, for you to know a little more, here we share with you the characteristics of this beautiful and historic Peruvian pottery.
Wari pottery stands out for its large size, as all its pieces measure more than 30 cm, or in some cases, up to 90 cm high. However, over time its size became smaller and smaller.
Most ceramic pieces were utilized for rituals or ceremonies in the Huari culture. Eventually, however, some of them were adopted for domestic use.
The designs of the Wari ceramic pieces were inspired by animals or mythological beings.
The preferred colors used in Wari pottery were brown, red, cream, ocher, and black, all of which received a glossy finish.
The most typical pieces were bowls, bottles, pitchers or vases, and vessels. Most of these objects were decorated with images of animals.
History of Wari pottery 
The origin of Wari ceramics goes hand in hand with the history and development of the Huari or Wari culture. It arose in the region of Ayacucho, Peru, in the 7th century AD.
The Wari culture was strongly influenced from several neighboring villages that eventually turned into fundamental sites where communities from this culture lived.
The first thing worth knowing about this group is that they built terraces and agricultural terraces for growing food crops near the hillsides of Huarpa, a Peruvian town that was divided into social classes at the time.
Later, as the Huari began to grow, they settled down nearby their place of origin. That is why in Ñahuimpuquio, a district of the department of Huancavelica, Peru, there are currently remains of houses constructions, town squares, corrals, and aqueducts that were managed and inhabited first by the Huarpa and then by the Huari.
Likewise, the Wari culture was influenced by foreign peoples, such as the Nazca and Ayacucho, who first influenced the Huarpa, and later, the Huarpa influenced the Huari. As a consequence, they formed a more complex society, which conveyed all their traditions and beliefs. Over time, they built stone and mud structures to inhabit absolutely isolated places.
The Wari's creations 
Within this new society, they created three important industries that benefited them economically and socially.
The first was textiles. The Huari wove clothing for burial rituals, as well as girdles, bags, and sleeveless shirts; all manufactured in cotton, alpaca wool, and vicuña wool, an animal similar to the llama.
Each textile was characterized by having colors such as red, bright blue, yellow, gold, and white. In addition, they used to add mythical figures of their religion or of animals such as snakes, felines, and birds.
The second industry was ceramics. Huari pottery was also influenced by various areas and cultures, so much so that the creation of this art occurred in multiple phases or styles, which we will discuss later.
The last two sectors were goldsmithing, in which the ancestors used copper to make neck and ear pendants, and feather art, in which feathers were used to make animal motifs or geometric figures that would later be added to costumes and hats.
The Wari culture produced fine pottery for various purposes: first, for the elite or upper social classes; second, for religious purposes; and finally, for domestic use.  
Through ceramics production, certain sites were settled for its manufacture and commercialization. Currently, there are two archaeological sites in Ayacucho, Conchopata, and Chakipampa, both of which date back to the origin of the Wari culture.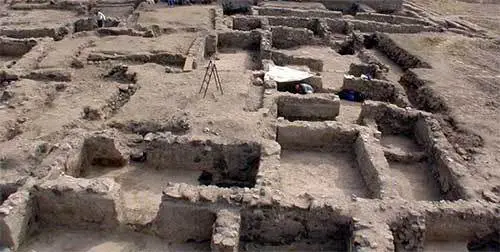 It should be added that in these sites, the influence of the Nazca area has been evidenced, specifically from the Tiahuanaco culture: therefore, it is thought that both Conchopata and Chakipampa communities joined the Huari and created ceramics together.
Although there is no exact date of the origin of this culture, it is known that it reached its end in the late eleventh century when the region's headwaters gained enough political and economic strength to break free from Wari control and became a metropolitan city.  
The same happened with various community groups until the metropolitan city of Wari was completely forgotten. However, know that this ending was the beginning of the regional states and more progress for Peru.
You may think that the end of the Huari brought down the production of textiles and ceramics, but this was not the case. Its production continued, however, with some differences and leaving behind part of the style that characterized this craft.
Styles of Wari ceramics 
As we told you before, the production of Wari ceramics came in different styles and it is time for you to get to know each one of them.
Conchopata Style 
The Conchopata style, influenced by the Tiahuanaco culture, was the first ceramic style to appear in the Ayacucho area.
This style's most outstanding pottery items are large urns of approximately 80 cm in height x 90 cm in diameter, which were used as deposits for offerings.
The typical colors of these pieces are red, gray, cream, black, white, and purple, and all their outside are decorated with drawings similar to the ones on la Portada del sol de Tiahuanaco. Other times, they were also decorated with cara-gollete (face-gollete).
When talking about a "gollete", we refer to the upper front part of the neck; therefore, "cara-gollete" means an imitation of a human face and the upper part of its neck, as you can see in the following image.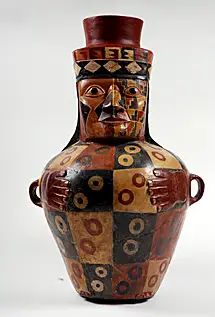 Robles Moqo Style 
The next ceramic style is the Robles Moqo, which comes from the Wari and Chaquipampa sites in the region of Ayacucho, Peru. Also, pieces have been found in Pacheco, Nazca.
The pieces that stand out within this style are the large ceremonial vessels, including urns, cara-gollete pitchers, llama figures, and vases measuring approximately 66 cm and 55 cm high.
There are also other ceramic items with smaller animal shapes, sculptural vases, and vessels in the form of human heads.
All these figures were decorated with phytomorphic elements, that is, resembling plants, like corn cobs. Geometric and nature figures were other designs that were used. Finally, the colors that stand out in this type of ceramic are red, white, purple, gray, cream and black.
Chaquipampa Style 
The Chaquipampa style is the next phase of Wari ceramics. This style of pottery is different from the others because it was not used in ceremonies like the others.
Ceramics from this phase have been found in the Acuchimay area in Ayacucho. Usually, small everyday objects such as vessels, bowls, and bottles with human figures or tubers were made. Tubers are those vegetables that come directly from the earth, for example, the arracacha and the tiger nut.
All the pieces from this phase were made and decorated in white, purple, gray, and cream colors.
Viñaque style 
The last but not least important Wari ceramic style is the Viñaque. It comes from Wari with influence from Robles moqo and Chaquipampa, Peru; also, it was influenced by the Nazca and Pachacamac regions.
Some of these pieces have been found in areas like Cajamarca, Sicuani, Ocoña, and the Moche Valley, Peru.
Ceramic objects from this phase include hemispherical bowls: little pitchers or vessels with an effigy neck, that is, a short, broad neck; and finally, two-body bottles.
Their decoration is based on geometric feline heads painted in profile, stylized plants, skulls, and fretted bands (you can see the bands on the top of the neck of the centerpiece in the following image). The other motifs can also be seen in the pieces below.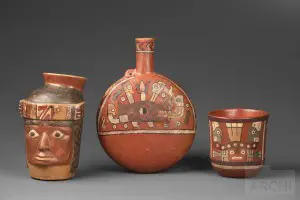 Where to see Wari pottery? 
Each of these figures tells a fascinating story with a unique significance: and that is why, just like you, we wonder: where can we see Wari pottery?
Do not worry if you think it is difficult to find because there are currently two places holding exhibitions of Peruvian Wari ceramics. These are the Museum of Popular Art Joaquin Lopez Antay and the PACHACAMMAC MUSEUM; here we tell you a little about them.
Joaquín López Antay Museum of Popular Art 
The Joaquin Lopez Antay Museum of Popular Art of the National University of San Cristobal de Huamanga was founded on December 11, 1997, with the purpose and hope of adopting the Peruvian popular art in its facilities and thus, consolidating itself as a place that revalues the art of the country.
It is named after the memory of Joaquin Lopez Antay, who won a National Culture Award in 1975 granted by the Peruvian State.
By visiting this place, you will be able to appreciate several artistic exhibitions of all periods, from the oldest to the current ones. Also, works of great masters of Ayacucho's artisan schools stand out.
For those who love and are interested in Wari pottery, there is a room with a permanent exhibition of replicas of this type of pottery made by local artisans and potters.
Extra information about this museum 
If you are interested in learning more about this museum, or better yet, visiting it, here is some extra information so you can arrange your visit.
Address: Casa Chacón, Portal Unión, Plaza Mayor Ayacucho, local Banco de Crédito Portal Independencia, Plaza Mayor de Ayacucho.
City: Ayacucho, Peru.
Schedule
Monday to Thursday: 9:00 a.m. to 6:30 p.m.
Fridays: 9:00 a.m. to 7:30 p.m.
Saturdays: from 9:00 a.m. to 1:00 p.m.
Prices or fees: Free admission.
Email: museo@unsch.edu.pe
Telephone numbers: (066)321230 – (066)312510
To keep in mind: if you are thinking of visiting the Joaquin Lopez Antay Museum of Popular Art, contact the museum first because schedules, prices, or services may change without previous notice.
Pachacamac Museum 
This museum was inaugurated in 1965 belonging to the Ministry of Culture. Its principal function is to explain and show the importance of archeological findings of all kinds in the culture and history of the country.
The museum houses an exhibition of ceramic offerings from the Wari period, where you can see depictions of characters, animals, and plants painted by the ancestors of this culture.
Extra information about the museum 
If you want to visit the place or learn more about it, here is the contact information.
Address: Antigua Carretera Panamericana Sur Km. 31.5 / District of Lurin. Lima, Peru
Schedule
Tuesdays, Thursdays and Saturdays: 10:00 a.m. to 3:00 p.m.
First Sunday of each month: 10:00 a.m. to 3:00 p.m.
Admission:
General adult: S/.15.00
Students: S/.5.00
Children (3 to 17 years): S/.1.00
Special tour (per person): S/.20.00
Guided (Maximum groups of 20 people): S/.30.00
Admission completely free: children under 3 years old
Email: museopachacamac@cultura.gob.pe
Email for reservations: reservaspachacamac@cultura.gob.pe
Phone numbers: 3215606 / 6189393
Website: http://pachacamac.cultura.pe/
To keep in mind: Make sure to call or book your visit first. For that, you can find more information on the museum's website above, in the "YOUR VISIT" section.
So far, this is the end of today's blog. We hope you have learned about the Peruvian Wari pottery. But before saying goodbye, we want you to remember that if you are passionate about the history of ceramics, you will find posts about this magnificent art's history in our blog:
We invite you to continue learning all about the world of ceramics and to discover the artist within you. See you next time.