As lovers of ceramics, we know that you can create really beautiful objects with this great technique. That's why today we present you 15 ceramic gift ideas that will surprise you.
Ceramic religious figurines
We start with this beautiful gift, ideal for people connected to their religion. Normally these people collect figures e.g. B. of Catholic personalities such as Jesus, the Virgin Mary, angels, saints, churches, figures of the nativity scene or Buddha's, gods of different religions and more.
The best thing about this gift is that you can get it in the size and price that best suits your wallet.
Ceramic animals
Ceramic animal figures are among the most popular figures. There are so many animals that can be imitated in ceramic that the possibilities for this type of gift are endless.
The incredible thing about these figurines is that they come in different sizes, colors, designs, and even with clothes painted in ceramic. This kind of gift is perfect for all animal lovers.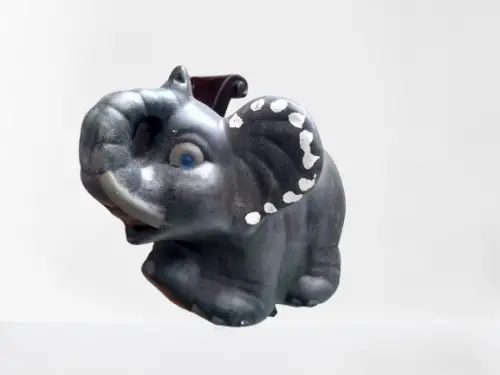 Ceramic mugs
Mugs are one of the most popular ceramic gifts. If you want to give a unique mug as a gift, you have the possibility to personalize it as you wish: you can add drawings, letters, shapes, and anything else you can think of. This option makes it a perfect gift that is also easy to obtain.
Decorative ceramic dolls
There are a variety of figures of different types of dolls, from children, women, and men to professionals such as musicians, nurses, and teachers.
In addition, you will also find figures representing different cultures, such as B. Chinese or African dolls, all with their typical costumes. With so much variety, this is a perfect gift for everyone, as these types of figurines are usually used as decorative objects.
Famous personalities made of ceramics
There are some characters that you are sure to like because they are depictions of famous people. And yes, just as you imagine, you can also find figurines of famous actors or fictional characters.
Ceramic costume jewelry
First, let's define fashion jewelry. Fashion jewelry consists of all kinds of fashion accessories like earrings, necklaces, rings, bracelets, bags and others.
The main characteristic of costume jewelry is that it is made of ceramics and base materials such as copper or titanium. Sometimes, however, fashion jewelry is also mixed with jewelry materials such as gold and silver.
When fashion jewelry is made of ceramic and gold or silver, it transforms into a beautiful, elegant fashion accessory with a touch of sophistication that everyone would want to own.
Ceramic fruits
Ceramic fruits are another spectacular idea suitable as a gift. The person you want to give this gift to should have a liking for decorative items in rooms like the dining room or the kitchen, as this is the main function of these items.
Plant pots
Flower pots are an excellent gift for anyone who loves plants. An advantage of this object is that it is made by all the potters and ceramists in the world, so in the market, you can get pots of all kinds of shapes, from the traditional shapes like round or square to animal shapes.
You can also buy them in their natural clay color so you can decorate and personalize them yourself. What could be nicer than giving away a pot designed with your own hands?
Ceramics for special occasions
Ceramic gifts are also available for special occasions such as graduations, weddings, confirmations, first communions, and baptisms. More than just a gift, these become a special keepsake for the key players in these events.
You can usually find this type of gift in stores that specialize in this type of event.
Ceramic tableware set
The tableware set includes cups, plates, and bowls of different sizes. Also, they come in different designs and in every color you can imagine. You can also buy tableware sets online, on various websites such as Amazon.
Ceramic fridge magnets
Fridge magnets are very popular, but not everyone wants to decorate their fridge with them. So if you want to give fridge magnets as gifts, you should know if the person likes to decorate their fridge.
Magnets not only decorate the fridge but also liven up the kitchen in an original way. Of course, there are people who do not usually bother with decorating this area of the house. Maybe you can even change that with your gift.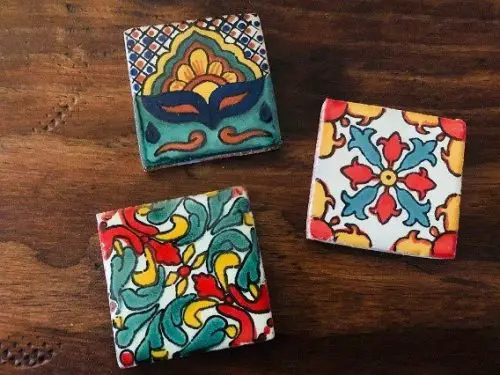 Ceramic keychain
Keychains are the perfect gift for birthdays or activities like Secret Santa during the month of love and friendship, which is usually celebrated in September each year in Colombia.
The motifs of the ceramic keychains are varied, for example, animals, emojis, dolls, shoes, cars, hearts, and everything you can imagine.
Decoration for festivities
An excellent ceramic gift to consider is the decorative items for the various festivals of the year.
We start with one of our favorite times of the year: Christmas. This time of year is characterized by happiness, lots of light, and decoration in the representative colors of red, white, green, and gold.
And it is precisely in these colors that you will find ornaments that you can give to this person so that they can use them in their house every Christmas. Usually, there are figures of the famous Santa Claus, reindeer, bears, snowmen, sleighs, and much more.
The second holiday we want to highlight is Halloween. We're sure you know at least one person who loves this date and is celebrating it with the best energy in the world.
For these people, there are ceramics of famous figures of this festival, such as B. Frankenstein, Dracula, witches, ghosts, werewolves, pumpkins, spiders, and mummies.
Decorative pieces
Finally, we would like to recommend you the type of decorative pieces for indoor and outdoor use. In this category, you will find many options that you are sure to like.
Here you can buy decorative items for different areas of the house, such as: B. cows (which are the representative animals for decorating kitchens), lamps, table decorations, statues, paintings, clocks, bowls, bells for outdoor use, and much more.