What is contemporary ceramic?
Contemporary ceramics is the evolution of traditional ceramics in harmony with man, technology and science. All pieces or objects of contemporary ceramics are characterized by their abstract shapes and designs.
There is no exact place of origin for this art, but there is an exact time of origin for contemporary ceramics.
It emerged at the end of the 20th and beginning of the 21st century. This is due not only to the emergence of new technologies or methods of making objects from clay, such as B. the addition of raw clay to already finished pieces, but also to the appearance of artists who joined the potters and ceramists to create new concepts of art and leave behind the traditional aesthetics of old ceramics.
This means that this practice is here to stay and is changing the way ceramics used to be viewed because it is more than just a simple utensil, it is now art. This is why contemporary ceramics is so important to the fine arts world and is considered the other side of ceramics.
Contemporary ceramic artists
With this explanation of what contemporary ceramics is and what it means, it's time to take a look at the 10 most important artists of this magnificent art form.
Graciela Olio
Graciela Olio is an important representative of the visual arts. Born in La Plata, Argentina, she is Professor of Plastic Arts at the University of La Plata, Faculty of Fine Arts. She is also Professor of the Olio Chair "Ceramic Workshop II to IV" at the National University of the Arts in Buenos Aires, Argentina.
Graciela Olio has been a member of the International Academy since 2009 of ceramics . Since 2010 the artist has had 20 exhibitions and has won 10 national and international awards. In addition, she published 15 international publications.
Graciela says: "My artistic practice is based on a poetics anchored in a mestizo cultural identity shaped by a pre-Columbian, Hispanic and European immigrant past. I transcend the anachronistic dichotomy between arts and crafts and work with ceramics to push the boundaries between cultivated art and popular art".
With this we can confirm that the style of the artist's works is inspired by the historical past of different cultures. In her creations, Graciela seeks to convey facts that date back to long ago and that can be considered art, regardless of whether they have been recognized in the past.
For this reason, most of her objects are in neutral colors reminiscent of antiquity.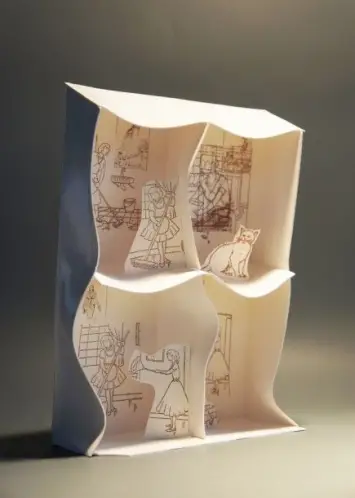 More information about the artist
If you want to know more about this artist and her work, find below the website and her social networks.
Website: http://www.gracielaolio.com.ar/
Social networks
Facebook: Graciela Olio
Twitter: @gracielaolio
Claudia Biehne
Claudia Biehne is a renowned ceramist who was born in Germany in 1974. In 2003 she completed her postgraduate studies at the University of Art and Design Burg Giebichenstein in Halle with a diploma. Claudia Biehne is a member of the International Academy of ceramics .
Since her early days in the field of ceramics, Biehne has learned everything about clay, from handling it to decorating and firing it. This enabled the ceramist to take part in several exhibitions and ceramics competitions, such as the 2015 Contemporary Ceramics Competition, where her work stood out among the 216 works on display.
In 2013, the artist also won the Saxon State Ministry of Science and Art Prize in the Marianne Brandt Competition, a competition in which juries promote the art of thousands of artists around the world.
Claudia Biehne says: "Artistic porcelain is still a young and unexplored genre". This fact allows the artist to keep experimenting and creating new pieces with unique designs that look like objects from nature. Take a look at some of them.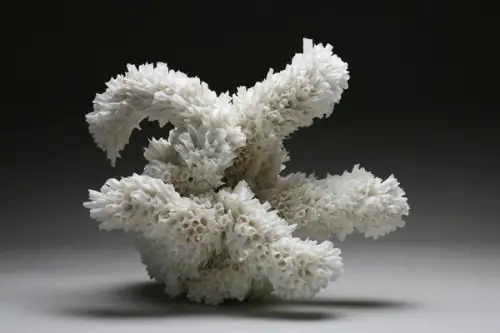 More information about the artist
Now we leave you the website and social networks of this amazing artist in case you want to know more about her.
Website: http://www.biehne-porzellan.de/
Social networks
Facebook: Porcelain studio Claudia Biehne & Stefan Passig
Instagram: biehne_porcelain
Lee Hun Chung
Lee Hun Chung is a prominent South Korean artist known for his ceramic and concrete (a mixture of stone, lime, cement, water and sand) works.
Lee Hun Chung was born in 1967 in Seoul, South Korea. He graduated from Hongik University to Bachelor of Fine Arts and ceramic sculpture. He then attended the San Francisco Art Institute in the United States, where he earned a master's degree in sculpture and then a PhD in architecture in Korea.
After completing his studies, Lee Hun Chung perfected his entire ceramic piece making techniques, which enabled him to rise to become one of the most internationally recognized artists. In addition, he has had 20 solo exhibitions and participated in more than 60 international group exhibitions.
The works of this brilliant artist are all characterized by size and by his ornate architectural designs. Among the most famous are chairs and mirrors, which decorate the places where you can find them in an unusual but creative way compared to what you usually see. Here we show you some of them.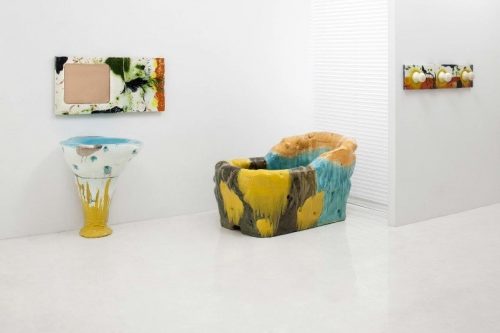 More information about the artist
If you liked this artist and want to know more about his work, you can find his website here now.
Website
Alfredo Eandrade
Alfredo Eandrade is an Argentine ceramist known for his works. He was born in Haedo , Argentina and still resides there.
This artist, thanks to his long learning path, has managed to excel in the artistic world of ceramics. He had the opportunity to learn from the best in the field such as Gabriel Baggio, Lara Marmor, Graciela Olio and Laura Spivak , Hun Chung Lee and Valeria Nascimento .
Eandrade was able to realize more than 30 exhibitions in countries such as Argentina, Spain, Korea, Argentina, Italy, Germany, Taiwan, Australia, USA, Switzerland and Croatia. He has also won 14 awards, including the Taiwan Ceramics Biennale and first prize at the 52nd CAAC International Ceramics Exhibition.
His works are characterized by depicting moments of human life, such as B. childhood, and natural objects such. B. the clouds play.
More information about the artist
Below is information such as the artist's website so you can learn more about his work.
Website
http://www.alfredoeandrade.com.ar/
Gabriel Baggio
Gabriel Baggio was born in 1974 in Buenos Aires, Argentina, where he currently lives and works. He studied at the National School of Fine Arts in Buenos Aires, graduating in 1998. From that moment Baggio dedicated himself to the production of artistic ceramics.
Thanks to his work, he has won more than 3 awards throughout his career, recognizing his talent and originality. Also, he has had more than 10 solo and group exhibitions in countries such as Canada, United States, Mexico, Argentina and others.
His works are known for their vivid and characteristic colors of nature. But there are also pieces that simulate tools and objects from antiquity in neutral and dark colors like coffee.
His creations are partly flat like paintings or in 2D, objects with different colors and abstract shapes. The antique objects are imitation tools such as hammers, saws, pliers, screwdrivers and others.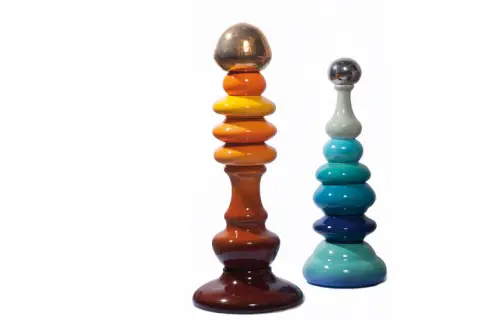 More information about the artist
Surely the work of this artist has caught your attention, so here is his website so you can admire his art for yourself.
Website
Ronit Baranga
Ronit Baranga is a visual artist internationally recognized for her talent and originality, qualities she expresses in her contemporary ceramic work.
Baranga was born in 1973 in Haifa, Israel. She studied psychology and literature at the University of Haifa, then art history at Tel-Aviv University and finally fine arts at Bet-Berl College.
The artist has won several awards, including the 2016 Israel Ministry of Culture Award and the 2012 Jury Appreciation Award at the Taiwan Ceramics Biennale.
Thanks to her studies, it is Ronit Baranga managed to succeed in the world of ceramics. She creates very special and unusual pieces that have a psychological impact on everyone who sees them. These pieces are classic tableware with the difference that they represent parts of the human body, especially fingers or hands.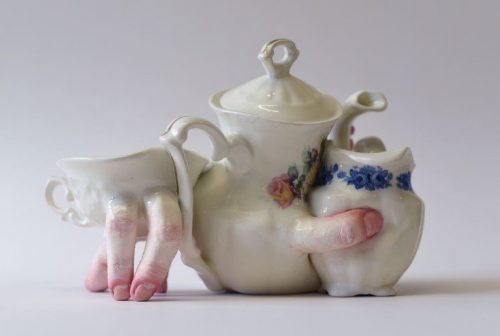 More information about the artist
We know you enjoyed this great artist. So if you want to know more about their work we leave you their website and their social networks that you will surely visit.
Website
Social networks
Facebook: Ronit Baranga sculpture
Instagram : ronitbaranga
Twitter : @ronitbaranga
Pinterest : Ronit Baranga
Pablo Barrio
Pablo Barreiro is a ceramist born in 1982 in Meaño , Pontevedra , Spain.
The artist's ceramic works are characterized by being collage-like compositions made up of several parts that form a single piece in order to redesign it and make it a new and unique object that adorns any place.
Barreiro draws on the concept of non-copying in his works, creating pieces with different shapes and designs that may be similar in certain parts to other pieces, but which he adds other shapes to make them unique.
Pablo Barreiro took part in 3 fairs in 2019 and, thanks to his originality, has previously won two prizes, a prize at the 25th edition of the Máximo Ramos International Graphic Awards 2018 and second prize at the New Values of Plastic Arts Awards 2015 of the Deputation of Pontevedra .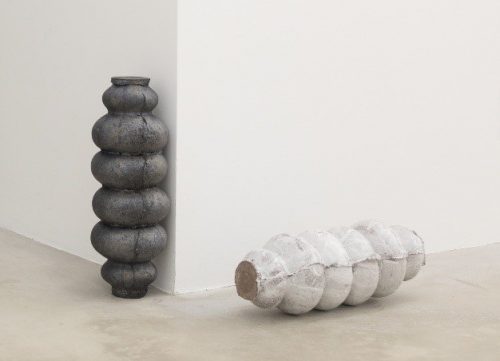 More information about the artist
Surely you are interested in seeing many more works by this ceramist. Here you will find information that will enable you to do this.
Website
http://cargocollective.com/pablobarreiro
Social networks
Instagram: pablo_barreiro_art
Sophie Woodrow
Sophie Woodrow is an English artist internationally known for her unique and decorative ceramic figurines.
Woodrow was born in Bristol, England in 1979. She studied studio ceramics at Falmouth College of Art, graduating in 2001. After completing her studies, she dedicated herself to the manufacture and design of pieces that everyone can recognize by today.
You're probably wondering what's so special about her pieces. We're just telling you that these are imitations of human animal faces with unusual bodies, as they may be parts of other animals or elements of nature in general.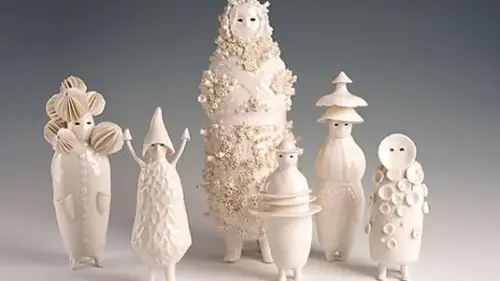 More information about the artist
You can find more information about this artist and her fantastic creations on her website or on her social networks.
Website
Social media
Instagram: sophiewoodrow
Twitter: @WoodrowSophie
Pascale Lehman
Pascale Lehman is a renowned artist and ceramist born in Santiago, Chile in 1963.
She studied design at the Pontificia Universidad Católica de Chile and joined Huara 's workshop in 2005 Huara , where she completed theoretical studies in ceramics and glaze. From that point on she began to work with earthenware ceramics and to give seminars on ceramics.
A few years later she opened her first ceramics workshop where she made her pieces from earthenware and after gaining experience she developed her own engobes and glazes.
Her works have been exhibited in several museums and galleries in countries such as Chile and France. She has not only received several awards and recognitions for this, but was also accepted as an official member of the International Academy of Ceramics in 2017.
Her works tend to be large in scale and generally have abstract shapes resembling rocks. Here we show them to you.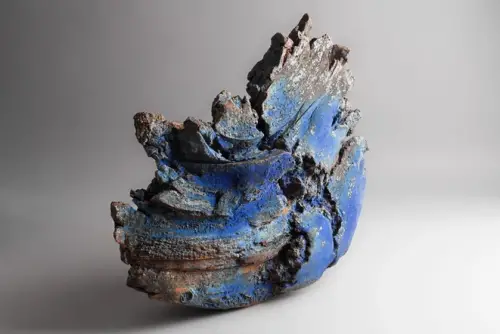 More information about the artist
For anyone who would like to know more about this artist and her works and creations, we have put together the information below so you can do your own research.
Website
https://www.pascalelehmann.com/
Kate MacDowell
Kate MacDowell is a famous American ceramist. She attended Brown University, where she earned her BA in English and American, and also studied ceramics at the Art Center in Carrboro , North Carolina. She also studied at the Penland School of Crafts in Penland , North Carolina, Flame Glass.
The artist has participated in various retreats and residencies, including in Renaissance Italy, Classical and Minoan Greece, Nepal and Thailand. Through these travels and experiences, MacDowell gained a different view of the world and its cultures, which inspired her work.
Therefore, their works reflect plant, animal and human nature in a realistic way, i.e. animals with simulated bones or internal organs. Many may find this strange or shocking, but their works are truly beautiful and realistic. See for yourself.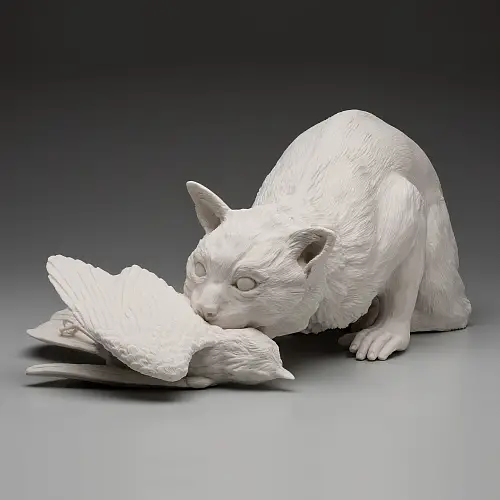 More information about the artist
Here is the artist's official website if you want more detailed information.
Website
Social media
Facebook: Kate McDowell
Instagram: katemcdowell