Every good potter, ceramist, and artist has good tools in his workshop. And before you specialize and buy special tools or expensive individual tools, you can get started with a tool set.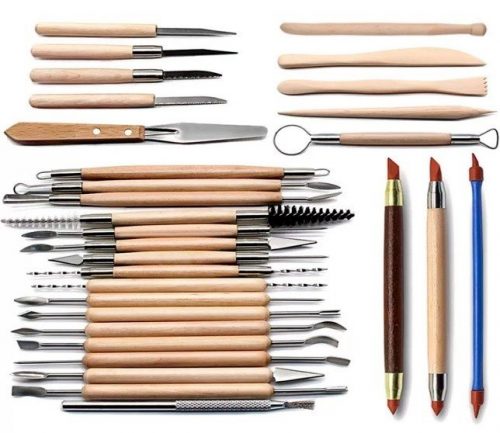 What tools are there?
There are many tools for pottery nowadays, especially for lathing and modeling clay.
Some of the most common tools used in ceramic work are:
Cutting devices
Sponges
Scraper
Ribbon tools
Chisel
Spatula
Perforator
Wooden sticks
Rubber mold
Plastic pins (ball, pointed, straight)
Paintbrush
What you should consider before buying
Before we introduce you to the best tool kits, here are some points to consider before buying a kit.
Material of ceramic tools
The first thing to look for when purchasing these tools is the material they are made of. We advise you to choose handles made of wood or stainless steel, as these are perfect for preventing materials from sticking to them. In addition, these two types of handles are resistant, easy to handle, and clean.
The life expectancy of ceramic tools
The life expectancy of ceramic tools is directly related to the material. Of course, other factors also play a role, such as the frequency of use, the intensity of use as well as care and handling. However, the most important aspect of the life expectancy is and remains the quality of the tools and thus also the material used and its processing.
Warranty of products
The warranties are always nice and give you certain security when buying products. Whether you need a 12-month guarantee for a tool worth USD 5 is questionable. With such cheap products, the time it takes to claim the warranty ends up being more expensive than the product itself. Therefore, observe this criterion with a healthy sense of proportion.
How to use ceramic tools
You should always be clear about the exact area of application of a product. Filigree tools are not necessarily suited to use with power, and wooden tools are not necessarily suited to use in the context of fire.
Note the range of uses of the various tools and their properties before you use them. This will automatically increase their life expectancy.
Price of tools
Today, thanks to the Internet, we have a very easy way to compare the price of many goods in a few seconds. Be sure to compare buying individual tools versus toolsets. In many cases, tool sets offer good discounts and buying each of the parts contained in them separately would cost more.
However, a comparison on the Internet does not automatically replace a specialist. Nevertheless, one should always approach a salesperson in a shop with healthy skepticism.
My best experience is the prior research on the Internet and also any online shopping. If you have any doubts, the specialist in the shop will help you, who of course deserves a surcharge because the advice also costs something.
Advice from a specialist with 20 years of experience and then nevertheless the subsequent purchase on the Internet, just to save a little money, I personally qualify as absolutely unfair and an ethical mistake.
Where to buy ceramic tool kits?
You can find many offers on the Internet, from specialized shops to the usual all-rounders such as Amazon and other online platforms. A visit to the shop is also always possible if you value good advice.
It all depends on your preference here.
Our recommendations: 8 sets of ceramic tools
And now the moment that you know everything you need to know to buy this kind of pottery tools or kits, now we are going to show you the top 8 best pottery kits that you can buy on the internet.
AIBER tool kit (8 pieces)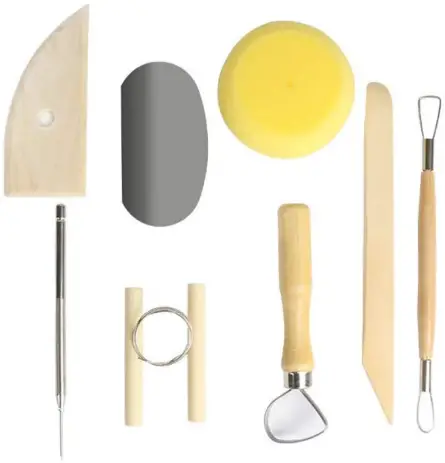 Price: $10
Brand: AIBER
8 tools for ceramists
Our first recommendation is this tool kit from the AIBER brand. This set contains 8 essential pottery tools.
The following tools are included:
Ribbon tool
Sponge
Wire clay cutter
Modeling Loops Tools
Wood modeling tool
Wooden spatula
stylus
We recommend this kit for several reasons. The kit is inexpensive and offers a good number of standard products. The AIBER brand is also known for the production of tools for ceramic production, so the quality and durability should be good.
DUJEN ceramic tool set (10 pieces)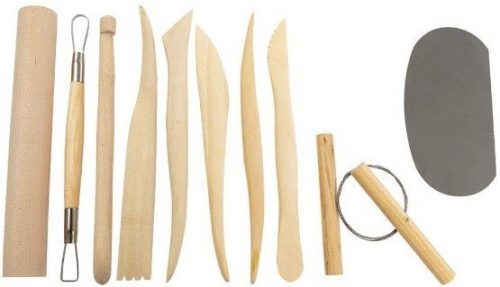 Price: $7
Brand: DUJEN
10 tools for making pottery
Our second recommendation is this set of 10 tools, which are ideal for making ceramic work. This set consists of:
Different wooden tools
sound cutter
hollowing tool
scraper
DUJEN is known for making tools that make working with clay easier for both novice and experienced potters.
Liyafy Clay Tool Set (14 pieces)
(indent the 3 bullets as above)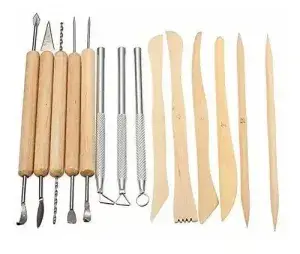 – Price: $27
– Brand: Liyafy
– Set of 14 pottery tools
This third recommendation is ideal for potters who are at an intermediate level of pottery.
The set contains 14 tools:
6 wooden tools
3 modeling loops with triangular and round tips
5 detail tools with 10 different tips for all tasks
All of these tools have an approximate length of 17 cm and are made of wood and metal.
In addition to the 14 tools, a case is also included in the price.
Bright Creations Ceramic Tool Set (24 Pieces)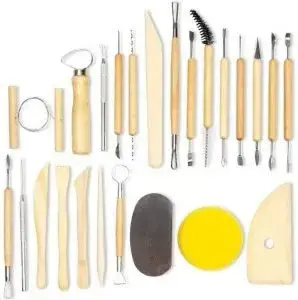 Price: $14
Brand: Bright Creations
Weight: 231 grams
Measurements: 4.7 inches to 19.8 cm
Set of 24 ceramic tools
Made from wood, metal, and stainless steel
The tools in this set:
11 detailing tools with different tips for all tasks
5 wood tools
2 modeling loops
2 phono needles
1 clay cutter
1 scraper
1 sponge
1 wooden sickle
This tool set already contains a large number of useful tools.
US-ART ceramic tool set (26 pieces)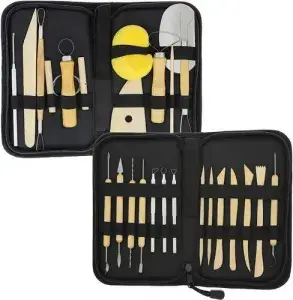 Price: $39
Brand: US ART
26 tools for making pottery
Our next recommendation is this fantastic set from the US-ART brand, which contains 26 super complete tools for working with any type of clay.
This set consists of:
Wooden tools
Detailing tools
Modeling loops
Stylus
Sponge
Wire cutter
Wooden sickle
Cases
All the tools in this kit are made of materials such as wood, stainless steel and metal. These materials make these tools a good choice for potters who are at an intermediate and advanced level of pottery work.
L&L Ceramic Tool Set (30 pieces)
Price: $18
Brand: L&L
Set of 30 ceramic tools
As a sixth recommendation, we present this functional set of 30 ceramic tools from the L&L brand. All tools from this brand are of good quality and made of wood and stainless steel, which undoubtedly increases their durability.
This set includes:
Wooden tools
Detail tools
Modeling loops
Stylus
Sponge
Wire cutter
Wooden sickle
Arteza pottery tool set (42 pieces)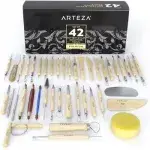 – Price: $84
– Brand: Arteza
– Set of 42 ceramic tools.
Our seventh recommendation is this set of 42 ceramic tools from Arteza . The Arteza brand is known for producing handicraft items that are characterized by high durability and reliability.
This set contains the following tools:
wooden tools
detail tools
modeling loops
stylus
sponge
sound cutter
wooden sickle
BZS ceramic tool set (57 pieces)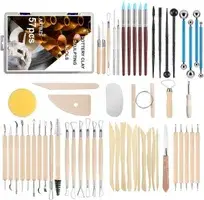 Price: $69
Brand: BZS
57 tools for making pottery
The eighth and final recommendation that we have for you today is this complete set of 57 tools ideal for modeling all types of clay.
The tools are made of wood, metal, and stainless steel.
This set contains 57 tools:
Wooden tools
Detailing tools
Modeling loops
Stylus
Sponge
Wire cutter
Wooden sickle