Boshan Museum of Ceramic Art and Colored Enamel – China
This museum opened in September 2007. As its name suggests, this museum is divided into two important sections: Ceramic Art and Colored Enamel.
Among the exhibits at the Pottery Museum, you can find cultural relics collected and exhibited by the Boshan State government and society. In this way, an attempt is made to preserve traces of history and to learn from it.
In the "Colorful Email" exhibition, on the other hand, you will find paintings and pieces painted in different colors, which gives this area its name.
Before reading any further we will give you some context to help you understand what Boshan is and what it means to pottery.
Boshan is a district in the city of Zibo in southern China. Boshan is also the birthplace of the Qi culture, which is one of the five main areas for making pottery. Fantastic!
Pottery came to Boshan in the late Neolithic period and its production was so extensive that it spread all over the world. It is worth highlighting that this region is characterized by the processing and manufacture of porcelain objects such as plates, cups, bowls, bottles and much more that you can see in different colors.
This is what you can discover in this museum: ancient ceramics made by the ancestors, contemporary ceramics and abstract objects decorated with the most striking glazes you can imagine and the best thing is that you can also learn about their history.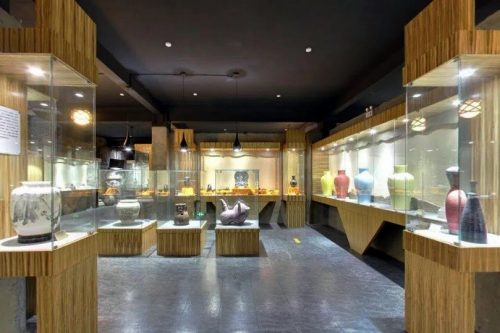 Additional Information
If you are interested in visiting this fabulous place in person on your dream visit to China, here is the address.
Address
Xiye Street, Boshan District, Zibo, Shandong, China
Museum of Antioquia – Colombia
This museum was founded on November 29, 1881, under the name Museo y Biblioteca de Zea in the Colombian city of Medellín. In the years that followed, the museum was affected by a number of economic and political factors that came one after the other.
Luckily, in 1973, the museum was acquired by Teresa Peña, who determined that the museum should be used for artistic purposes. Over the next three years, the museum received donations from great Colombian artists such as Fernando Botero, so in 1977 it changed its name to Museo de Antioquia.
Since then there have been several changes in the administration of the museum . However, the purpose of the museum was never abandoned and over time it received donations from artists who were exhibited in the facility.
The Museum of Antioquia currently has exhibitions of paintings, sculptures and – the reason it is mentioned here – pottery.
Among the exhibitions that we would like to highlight is the exhibition " El barro tiene voz " (Clay has a voice). It is a permanent exhibition where you can admire pieces of different origins and times, that is, ceramic objects from different parts of the country, collected from the beginning to the present. That means that not all the pieces on display are really as old as many people think when they admire them.
The main purpose of this exhibition is to make the connection between the past and the present through these pieces, to set aside the historical gap between these two eras, and to show that these objects and their meaning are still the same today.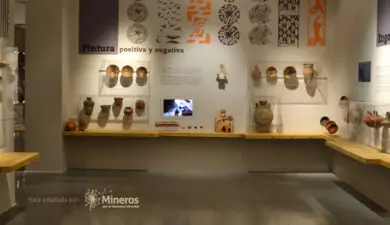 Additional Information
Traveling to Medellin, Colombia is easy. If you want to combine your visit to the museum with a trip to Colombia, we can recommend the travel agency Pelecanus in Bogota, which specializes in trips to Colombia.
Address
Cra 52 No. _ 52-43, Medellin, Antioquia, Colombia
Prices
Nationals: 12,000 Colombian pesos
Foreigners: 18,000 Colombian pesos.
Website
https://www.museodeantioquia.co/
National Museum of Ceramics and Funerary Art "González Martí " – Spain
The museum was founded on February 7th, 1947 after the state had bought the ceramics collection of the artist and ceramist Amelia Cuñat Monleón had received as a gift from her widower, Manuel González Martí. It was dedicated on June 19, 1954, and named in honor of its first donor.
The National Museum of Ceramics and Costume Arts has several exhibitions including paintings, costumes, antique carriages, and ceramics.
The latter is the most important in the museum. Here you can see the oldest pieces made since the Neolithic Age, with their evolution and an explanation of the techniques of manufacture and decoration used by the ancestors. You will also learn about Hispano -Moorish ceramics, i.e. of Moorish origin, and of course their history and the meaning behind the magnificent creations.
Not forgetting the gres tiles with metallic reflections, ideal for the architectural decoration of interiors and exteriors of various buildings, such as: B. Churches are suitable.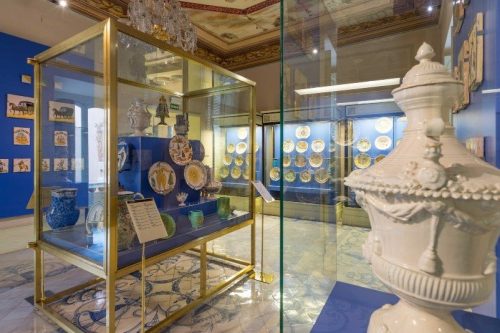 Additional Information
Address
Poeta Querol , 2 (46002), Valencia, Spain
Schedules
Tuesday to Saturday: from 10:00 a.m. to 2:00 p.m. and from 4:00 p.m. to 8:00 p.m.
Sundays and public holidays: from 10:00 a.m. to 2:00 p.m.
Closed every Monday of the year, January 1st, May 1st, December 24th, 25th and 31st and two local holidays.
Prices
General admission: €3.
Reduced: €1.50 (groups of 8 or more by prior reservation, cultural volunteers).
Free admission: children under 18 and over 65, students between 18 and 25, disabled people, pensioners, teachers, journalists and others. (You can view the terms at the link below).
website
http://www.culturaydeporte.gob.es/mnceramica/home.html
Museum of Ceramics – Colombia
The Pottery Museum was born out of the need to create a place to honor the pottery tradition of the community of Carmen de Viboral, Antioquia in Colombia.
Let's remember that since the beginning, the craftsmen of Carmen de Viboral have been characterized by their quality and beautiful production of ceramic objects. One of the aspects that characterize this tradition is the use and suitability of the raw materials they use for ceramic production. Some of these materials include clay, kaolin, feldspar, quartz, and other minerals that are mined directly from nature in communities such as La Unión and Llano Grande.
Also, the potters use various modeling and potter's wheel techniques to create their pieces. Another distinctive feature is that the pieces are decorated with drawings of flowers of different colors and unique and beautiful designs that attract the attention of everyone who sees them.
The idea was born between 2006 and 2007 and 5 years later it was realized thanks to the support and direction of the Ministry of Culture, the Institute of Culture and Heritage of Antioquia, the Mayor's Office of El Carmen de Viboral, and the Institute of Culture through the Tourist Office, the place was inaugurated and given the name Ceramics Museum.
The museum exhibits, among other things, plates, bowls, pots, photos, decorative objects, and tools of the ancestors.
We would like to emphasize that each of these objects is accompanied by information and legends that tell the story of each of them, where they were made, what they were used for, whether they were part of traditions, and much more.
Undoubtedly, this place is very important for the community, since not only the students and residents of the city can learn about its history, but also visitors from other parts of the country or even from all over the world.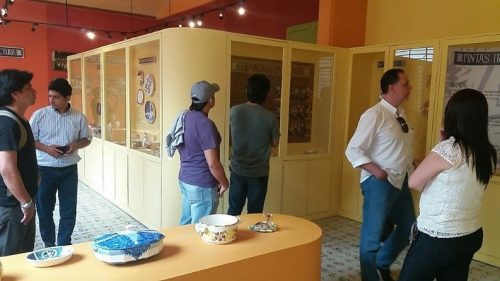 Additional Information
Address
Cra . 30 #27 -66, Carmen de Viboral , Antioquia, Colombia
Schedules
Monday to Friday: from 2:30 p.m. to 6:00 p.m.
Saturdays and Sundays: 1:00 p.m. to 5:00 p.m.
Website
https://culturaelcarmen.gov.co/museo-de-la-ceramica/
Ceramic Museum Princessehof – Netherlands
This museum is housed in the 18th-century City Palace in the historic city center of Leeuwarden (Netherlands). The name Princessehof comes from the surname of a Dutch royal family who lived there for many years.
Its official inauguration took place in 1917. When you visit this beautiful place you will find true wonders such as national monuments, portraits of the Princessehof family and their history, a wine warehouse and rooms, corridors, attics and staircases, each with its own style and function.
What will interest you most: The museum has a large collection of Asian, European, and modern ceramics. An example of this is the largest collection of Chinese porcelain in the area and the collection of Dutch Art Nouveau and Art Deco ceramics from the period 1880 to 1930. It includes vases, plates, clocks, and pots with completely new and unusual designs, such as the one you see in the picture below. An artistic representation of this great technique, don't you agree?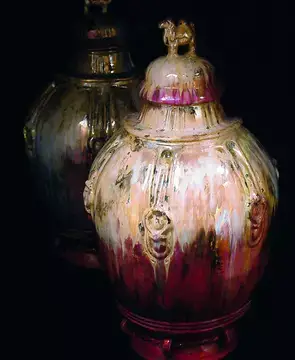 Additional Information
Address
Grote Kerkstraat 9 8911 DZ Leeuwarden (NL), The Netherlands
Schedules
Even if the museum is temporarily closed, normal opening hours apply.
Tuesday to Sunday: 11:00 a.m. – 5:00 p.m.
Closed: Monday, New Year's Day, King's Day, and Christmas Day.
Prices
Adults: €12.50.
Children and young people under 17 years: free
Students and teachers: €9.50.
Groups of more than 10 people (per person): €9.50.
Website
American Museum of Ceramic Art – USA
The American Museum of Ceramic Art was founded in 2003 by David Armstrong, a graduate of the American Museum of Ceramic Art, who eventually discovered his passion for ceramics. (If he was a graduate, the museum must have existed before he founded it)
Because of his experience in the world of ceramics, Armstrong opened a gallery of limited edition ceramic collectibles in 1969. And only four years later he started his own business with the production of porcelain plates.
The museum was established with the aim of preserving the heritage and history of ceramics as an essential part of societal development. When you visit the museum you will not only find more than 7,000 pieces of pottery from Asia, Europe and of course Southern California, but also all kinds of paintings on canvas.
The image below is from the "Sculptures" collection on display at the museum. The piece is by the artist Cindy Butler Jones, who is known for her porcelain work and usually always designs different animals.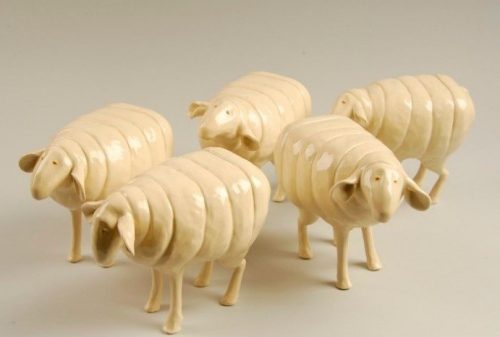 Additional Information
Below is additional information about the museum such as the address, hours of operation, prices and the museum's website in case you are interested in all that this place has to offer.
Address
399 N Garey Ave, Pomona, CA 91767, USA
Schedules
No opening times are available at this time as the museum is temporarily closed due to sanitary conditions. However, we advise you to check the museum's website below for new information.
Prices
General admission: $7
Active Duty Military or Veterans: $5
Seniors 62 and older: $5
Students: $5
Children under 12: free
Museum members: free
Website
Adrien Debouché National Museum – France
The Adrien Debouché National Museum was founded in 1845 by his patron Adrien Debouché, who, as a major French art dealer and collector, made the decision to support the museum.
There are many reasons why you should visit this amazing place. One of them is that the museum contains the world's richest collection of porcelain from the French city of Limoges. At the same time you can take a journey through time from the oldest ceramics from all continents to the most modern from all parts of the world.
You will also see all the techniques that were and are used in the elaboration and decoration of the more than 5,000 pieces on display in the museum. The site also offers activities such as B. Offer painting workshops for each specific audience, i.e. for each age group. Please note that these activities are also suitable for children from 3 years of age.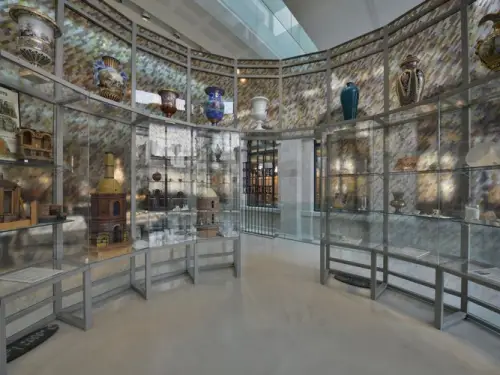 Additional Information
We are sure that, like us, you are very interested in this great museum.
Address
8 Place Winston Churchill, 87000 Limoges, France
Schedules
Open: Monday and Wednesday to Sunday from 10 am to 12.30 pm and from 2 pm to 5.45 pm.
Closed: Tuesday, December 25th, and January 1st.
Prices
Full price: €7.
Group price: €5 (from 15 people)
Reduced price: €5.
Free admission: every first Sunday of the month, under 26s, teachers and more.
Website
http://www.musee-adriendubouche.fr/
Andenne Ceramics Museum – Belgium
This museum opened on July 21, 1933 in the former town hall on Place du Perron in Andenne , Belgium. At that time the place started with donations from the population and from artists or potters who wanted to publicize their work.
In 1960 the museum moved to Rue Charles Lapierre and in 1999 the Andenne Ceramics Museum Association was founded, named after the place where it was founded, the city of Andenne in Belgium.
The main purpose of this museum, from its foundation until today, is to show the evolution of ceramics in this area while highlighting its importance as a cultural, folk and historical heritage of the city. His pieces are characterized by elements such as vases, bowls, pots and other types of objects similar to those already mentioned, all in antique styles where the natural color of the clay stands out.
If you enter the museum today, you can see everything that was made in this city, from the oldest pieces to the most modern. You can also learn about the techniques of manufacture and the history behind it. Great!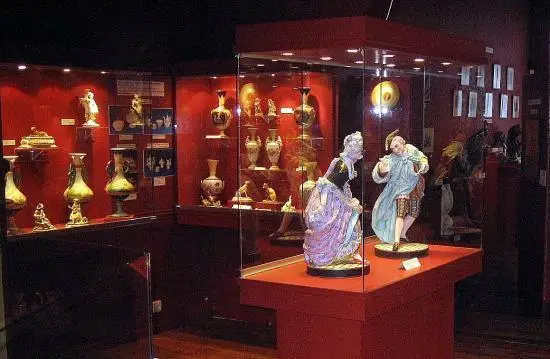 Additional Information
Address
Rue Charles Lapierre 29, 5300 Andenne , Belgium
Schedules
Open Monday to Friday from 9:30 a.m. to 4:30 p.m.
Closed: holidays
Prices
Full price: €8.
Reduced price: €5 per person (see conditions)
Free admission: children under 18, journalists, Belgian teachers, every first Sunday of the month and more.
Website